IBC's 2014-15 programming season descriptions. There are currently five regularly scheduled programs created by IBC. All are broadcast on the Aboriginal Peoples Television Network (APTN).
Takuginai (Look Here)
Language: Inuit language
Distribution via webcasting
Length: 26 x 15 minutes episodes
Genre: Children's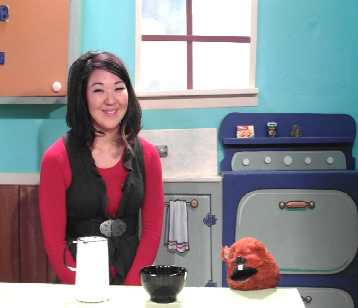 This is the only Inuit language series in North America directed at Inuit children. The series features the likes of "Johnny" the lemming and other locally made puppets and young hosts. Takuginai educates Inuit children with cultural values such as respect for elders, sharing and patience and having fun in the process. Takuginai also teaches basic literacy skills such as Inuktitut numbers and syllabics. Takuginai was created for the five to seven-year old age group; however, the show is enjoyed by people of all ages. We have begun the process of training people to do basic computer animation.
In 2014-15, Takuginai will be a 15-minute program produced for webcast in Iqaluit with segments also being provided by our other centers. Takuginai will continue to increase our focus on Inuit language education and further aligning our curriculum with that of the kindergarten and grade 1 curriculum of the Nunavut School system. We will continue to increase the use of the animation technique.
Each webisode will feature a main story with the Takuginai puppet family including Johnny the lemming. These humourous stories reinforce Inuit cultural values while featuring the natural speaking rhythms of the Inuit language.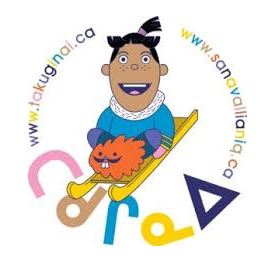 We will also have a continuing mini story hosted by our new host, Angeline Ivalu, along with Tulu the Raven (puppet). Together they will setup and review the educational content.
These episodes will include segments designed with our youngest audience in mind. Many of these simple educational segments explain words, numbers and syllabics for early language learners. Other educational segments teach Inuit games or tools traditionally used by Inuit. The webisode format will emphasize and encourage interactivity.
We continue to receive numerous requests for our "puppet family" to perform at events. Our puppet family continues to be updated and re-built. Thomasie and Timuti, young brother and sister, have recently been rebuilt. In 2014-15, two other "older" puppets will be rebuilt.
---
Qanuq Isumavit?
Language: Inuit language.
Broadcast agreement with APTN to be negotiated.
Length: 13 x 90 minute episodes
Genre: Discussion
(Note: APTN requires that IBC pay for uplinking fees.)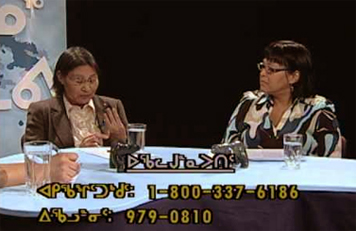 Phone-In (What Do You Think?): IBC's only live production, the phone
show enables the northern audience to discuss current issues and events in detail. Topics covered in the past included a wide range of "things on people's minds" including parenting, health care, language, Inuit knowledge, climate change, and sled dog slaughter among them.
Once again in 2014-15, the series' subject matter will focus on issues that are important to Inuit in Nunavut and other regions of the North. Qanuq Isumavit invites viewers to participate by phoning or e-mailing, to ask questions, disagree with the guest's view, offer a comment or just air their views.
We will again invite a studio audience to the programs. The host intro in each program will include a short clip, offering a brief outline of the week's topic. The clip will include library footage recorded throughout the year of politicians / representatives / opinion-formers giving their view on the subject – in order to stimulate discussion. After a brief introduction by the programs' guest, the host will invite a question from the audience and will also refer to e-mails received prior to the program. The program will continue with a format of questions, views by phone, email and audience participation. At the end of each program, the host will tell the viewers the next programs topic and invite questions and comments during the week via email so that they can be included in the next week's show.
The phone-in show runs weekly airing for 90 minutes and is for the five to 80-year age group. Qanuq Isumavit is produced in Iqaluit.
---
Qanurli? (Inuktitut for "What's Next?")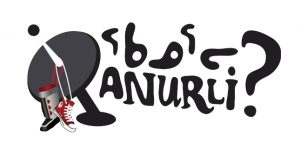 A 13-episode television series of 30-minute youth driven
programs, now in its fourth season. This hilarious Inuit language comedy show is hosted by "Inuk" and "Nipangi", our very own odd-couple, and features talented Inuit youth and leaders, comedic skits, commercial parodies, fake newscasts and more. Think Wayne's World
meets Saturday Night Live in the north!
The show has evolved since it began in 2010, taking on relevant social and political issues, but always with humour and charm. In season 3, Inuk and Nipangi broadcast their "Show" from a tent on the land due to low/no budgets, however in Season 4, they head out on epic adventures, traveling to various Nunavut communities to find out what other communities in Nunavut have to share with their territory and the rest of Canada. They set out on their very own mission of starting a Nunavut TV Network.
Synopsis:
Produced, written, and hosted by youth, for youth, Qanurli? features comedy sketches combined with inspiring news magazine style profiles on passionate young people making change in their world.
As these youth create grass-roots change in their communities by initiating sports, music and cultural groups, inspiration is spread through a myriad of social networking sites that connect, inspire and instruct their peers to do the same.
The first broadcast season of Qanurli? resulted in an unprecedented "blockbuster hit" in Nunavut with the intended target audience. Typically, youth are the most difficult group to
attract and engage. This series has succeeded through the use of a youth advisory group complimentary use of social media and the clear identification developed with its star characters. The feedback received, in particular, regarding language is extremely encouraging. This age group, historically, is a group that will tend to use English – this series can be credited with a major shift in attitude – "Speaking Inuktitut is COOL!!!". Qanurli? appears to have also reached youth in the very distant Kitikmeot region and spurring on an increased interest in understanding and speaking Inuinnaqtun.
---
Ilinniq (Learning)
Language: Inuit language with English subtitles.
Broadcast agreement with APTN to be negotiated.
Length: 13 half hour episodes
Genre: Factual
A series of mini documentaries profiling some of the most interesting people who live in Nunavut. The series will be targeted towards a general audience. Ilinniq will feature a range of people from politicians to elders to authours to actors. Each episode will explore the accomplishments, the obstacles and the passion behind these fascinating individuals. The series also features mini profiles of people in addition to the main subject. This series, through its travel to various communities, ensures the widest possible inclusion of the Nunavut communities and their unique dialects. There have been continuous requests for home copies of various episodes of the series. Previous seasons of Ilinniq are now available online at www.aptn.ca.
---
Niqitsiat (Healthy Foods)
Language: Inuit Language
Broadcast agreement with APTN to be negotiated.
Length: 13 half -hour episodes
Genre: Food
Features the preparation and cooking of Inuit traditional foods.
Healthy eating and living are promoted through the depiction of delicious and easy to prepare, locally available food. The origin of the food source will also be presented, from the sea, to the ice, to the tundra. The program is hosted by Rebecca Veevee. Rebecca will receive assistance from several "young" guests this season and their parents/caregivers who are familiar with feeding families nutritious meals on a limited budget. Rebecca will often flip through her Niqitsiat cookbook and invite viewers to comment and suggest new recipes. Rebecca will invite a guest chef from the Iles de la Madeleine to combine traditional Gaspesian seal recipies with Rebecca's own favorites. Several episodes will be shot in Quebec City, where Rebecca now lives part time.
Rebecca is often requested to appear at public events. Rebecca has attended portions of the Alianait Arts Festival – making and serving bannock and tea to elders. Rebecca gave a cooking demonstration at the National Arts Centre's 2013 Northern Scene. IBC has partnered with the Government of Nunavut, Department of Health and Social Services to promote healthy eating. The GN Territorial Nutritionist has provided assistance in determining recipes suggesting ingredients. Recently, Rebecca has competed in a "Canadian Chef" competition in Winnipeg.